Summer/Autumn – 2020
After a very dry and sometimes exceedingly cool spring time, summer brought us back to a more normal weather window, including some much needed rain. However, not enough rain to compensate for the dry period thus my big bale count was down by circa 10% compared to 2019. I have therefore purchased another 30 large bales from a neighbour which should see me through the winter. I also purchased 250 small bales of hay that always comes in handy. All will for sure be consumed by our now 20+ herd of Beef Shorthorn cattle, and 100+ flock of Herdwick sheep. Whilst mowing this year during the last days of July I had the joy of breaking my own, and then my neighbour's mower. Happy days, and no I had not completely finished and my 10% deficit could have been improved. Straw has been the issue for all, basically we are back to the previous wet winter and very dry spring in that it was initially too wet to drill, and then what was drilled was starved of water therefore did not grow as it normally would. I have finally got hold of some, this after my normal source could not spare any for me. I have not yet dare ask the cost.
Our new S'horn bull (Meatloaf) seems to have done his work, and we now await the results during 2021. Hopefully they will not be large calves ? He has settled in well, and his quiet temperament is a credit to the Beef Shorthorn breed. He came home in mid-October as in one of the neighbouring fields to where he was located was put a bulling cow, having done his own harem it was only a matter of time before he tried the wall between them for size, and the wall would have lost. So he came home pronto. Also this autumn I have tried to AI three heifers which is always a pain, otherwise he will have these to do also if I am not successful. Time will tell.
All cows and calves came home during November, some as late as early December this after we experienced a dump of early snow. All yearlings and weaned calves are still outside and tucking in to some of the hay bales I mention above. Hopefully they will stay there until January, the only issue is that there are ten of them, and my fear is that they do not poach the ground too much otherwise in they will have to come.
The tup has been busy with his ewes, the same one as last year so fingers crossed we look forward to a successful lambing in early 2021.
Also, it is time for our sheep dog; Jazz, to breed her replacement. Approaching six years old we dare not wait any longer. She has visited a local dog, also ISDS registered. We did not see them tie, as they were put in a cattle trailer all day for three days running. Again only time will tell ?
I have no whippet yet, this as a result of the Corona virus which has made the price of them go through the roof. In time.
On the bird front the Blackbirds only had one clutch as it was too dry for them, whilst the Swallows did OK once they commenced to nest. They departed from us on the 1st October.
Also, in the large area where I keep my breeding herd of cattle over the summer months, we had one Curlew nest, one Lapwing and at least two Snipe. Also up there this year we had two adult foxes, I watched one hunting in the reeds around September time. One was dealt with, and the other not seen again.
Additionally, it is good to report that I have continually seen throughout the summer/autumn period some number of red squirrels. Yes we have these animals locally, basically because there is team of people who cull all grey squirrels in a very wide arc of some miles. As a consequence the reds flourish. Magical.
To my great joy this back-end I found two new areas where blue-stalks grow. Historic is all I can say. Also known as Blewitt's.
Furthermore, I am no longer, as previously described, involved in business. I do hope to again at some point however.
Otherwise, we now look forward to winter. The Sloe Gin is ensconced above the fire and the diminishing whiskey bottles that sit in the same location are now stocked up, this as our horizons now search towards 2021.
Winter/Spring 2020
I would describe this period weather wise as 'normal', with nothing extreme. Yes, we had some gales, rain and snow, also a very cold April/May due to NE winds which were also very dry. This said no year is the same, so we just get on with it as do all farming families.
The main herd of my cattle came home from the high tops around mid/late November which did not surprise me as our herd numbers are growing. The yearling heifers however who are located at home did not come inside until late January, being smaller they do not poach the land to the extent of the mature stock.
We had a new tup this year, and all lambed with no issue excepting one old girl who was barren, she will now be made available for mutton in September. All other ewes had at least one live lamb at around the 150% mark for our flock.
I also jumped back into business, but I doubt this will last long simply because the culture is not one I am familiar with. 20% of staff have so far departed of their own volition which tells its own story.
This springtime my cattle have given me a hard time. In that my oldest fourteen year old cow again gave me a beautiful heifer in late December, a month later she was dead due to an heart attack. Luckily she did not fall on her young calf, who is now doing well. Finally, I had one calve who had an infection which I was treating, she calved in the morning and then she laid on it in the afternoon ! Again, fortunately I was at hand to get her off it, and when I dragged it from beneath her I thought it was dead. Thankfully, it took a deep breath and is now running out with her on the high ground as happy as Larry.
Of note, we also have had some lovely calves. One from our now oldest cow who is now on her tenth calf. Also, another good-looking heifer from some of the classy semen I hold.
Finally on my cattle, the Jazzman has gone on to a suckler herd in the midlands, and our new bull Meatloaf is out with his ladies. He is on the main page now.
As for mother nature, this year so far I have rescued three Hedghogs, two Lapwing chicks, one Oystercatcher chick and around a dozen Mallard ducklings from the two cattle grids I traverse over to get home from the main road.
Our resident Swallows did not commence to start breeding until June, this because of the bitterly cold NE wind in April and May. Additionally, the resident pair of Blackbirds has only had one brood, simply because it was too dry to feed another family. The resident pair of Moorhens also did not breed as the pond was dry from April until July.
We had the usual Curlew, Lapwing and Snipe nesting in the area where we keep the main breeding herd over the summer time. You can always be sure when young are about as especially the Curlews and Lapwings make quite a racket. The Snipe are much more secretive, the best indicator of them nesting is when they quarter their breeding area early morning and late evening.
I listened to the Cuckoo many, many times this year from when my two year olds went out in mid-May, until the end of June when he commences the long journey back to tropical Africa. One particular morning the whole dale was misty with bright intermittent shafts of sunlight bursting through the gloom, and to hear him calling in this environment was magical to say the least. Also, the Sedge Warbler returned, this year to be joined by a Grasshopper Warbler which try as I might I have still not been able to see him. On my daily walk to see my heifers I also watched and listened to a Blackcap sing his heart out on numerous occassions. This area where my two year olds are kept over summer is a dead end, so no through traffic. It is magical in spring and summer time.
My customer base grows, with additional customers in; Manchester, Glasgow, Skipton, Bedale, York, Masham and Durham. Thank you all.
Now bring on the summer, and some rain 😊
Summer/Autumn – 2019
Well what a summer, completely differing from 2018. We had some brighter spots, but boy did we also have some rain. In fact after reading my daily diary that I use for information to use in this Blog it was stated; 'Sick of August it has been a complete washout'. However, this resulted in an increase in large forage bales of 46% compared to the previous year. I did not take a second cut this year, and sat here now in late November I am beginning to wish I had as I think with my increasing cattle numbers I may be short and have to purchase extra? I have already purchased in 300 small bales of hay, which will come in handy if I am short. Time will tell.
On the bird front anything that likes worms did well (Blackbirds), and anything that prefers insect life (Swallows) not so well with our resident pairs only having two broods this year. One notable point on daily visiting my younger cattle located about a mile away as the crow flies was that I was hearing something not familiar to my ears. Thus one day I took my binoculars and made sure I had some time to explore this new bird song, it did not take me long to identify that it was a Sedge Warbler! It was nesting along a heavily foliaged brook that runs directly adjacent to where I keep them over summer. I cannot recollect seeing/hearing one previously and took great joy seeing it. Next spring time I will be listening out for it, it has a very unusual collection of notes.
Also, in the large area where I keep my breeding herd of cattle over the summer months, we had two Curlew nests, one Lawing and at least two Snipe. I saw young from them all.
A real turn up this autumn was reports of a Hoopoe locally. I never saw it but reliable friends confirmed. Wow is all I can say.
As for my S'horns the areas of note include that they are now all home from the high tops and all being inside by 23/11/19 which is the earliest yet. We did have a young calf explode from the race into the cattle trailer on one journey, he was last seen disappearing up the road on the way to the next village. As for them coming home early, I am not particularly surprised as herd numbers are yearly increasing and as said the weather is exceedingly wet. This is my breeding herd; the yearling youngsters are still outside at home.
The Jazzman has again done his work, and just today I noticed that he has somehow lost his nose ring. I will have to put another one in for him now. He is still with us; I did have one enquiry but this came to nothing so far. We also have a new yearling youngster, which I collect within a week or so. This one passed all relevant blood tests otherwise he would not be the one for us, he is more roan than the Jazzman. Let's hope he is a good fit for my ladies, his pedigree name is; 'Sandwick Meatloaf'. Piccy's to follow in due course.
On our search for a healthy new bull, East Yorkshire, Whitby, Wales and Hampshire were all investigated. He eventually came from Cumbria.
Finally on the cattle front, we are still awaiting a very late calf due on Christmas day! It is by our oldest cow; she is now thirteen. Will this be her last, hopefully not?
Also, a small tale from when we were selecting our new bull in that the sellers had just sold a more mature bull to someone who had come on the day to purchase a kitten! True story.
On the Herdwick front, we this year sold a dozen yearling gimmers into Derbyshire, inclusive of 'Mabel' which did not make me popular in the least. We also had a dose on Sheep lice which we have never had before. Now eliminated. Just maybe this could have come from jumping neighbouring sheep which we have constant trouble with?
We have also loaned out for the first time a young tup to do his duty.
Another item that comes to mind was that when full to overflowing my manure spreader decided to go kaput when one of the drive mechanisms sheared. Resulting in the only way to get it repaired was to empty the thing firstly, which could only be done manually. I had a complete rest the next day.
Another point was when I buried my spectacles, in that our lane has required some repairs for some time. One large area is now completed, but I did balance my spectacles on the loader bucket one day as I was sweating. The next thing I knew I had deposited the said bucket of rubble in the hole and my eyesight went with it. This after doing a similar thing and running directly over them with the L/rover a week or so after. They were still intact, yes a little lopsided, but workable.
Also, for those not aware I have since a small boy been a rabbit catcher, this continues to this day. I have all of the relevant tools, my next addition as our lurcher is now very old is to add a Whippet to the team. This will be done once I decide yes/no as to another industrial project, as the last one has now come to a conclusion.
This has helped with home jobs for sure, we now have a newly tiled kitchen. Which if I may say, looks pretty smart.
Otherwise, we now look forward to winter. The Sloe Gin is ensconced above the fire, as our horizons now search towards 2020.
Winter/Spring 2019
As far as winter 2018 went, there was not much to report. A few gales, some snow but not too much. A fair winter all told would be my summary.
As for my bale count we easily had enough, with circa 15 remaining after all cattle went out. These will be the first fed during late 2019.
As for the tupping, something odd went on is all I can assume, this because we had five not lamb, and a further dozen lamb very late May. Two ewes a week after it was possible to do so, relative to when we removed the tup. Both Adele and I put this down to the weather, all very strange. All that did lamb, did so with very few issues.
Additionally, all calving went well. It is pleasing that I have very little to report in this area. All were up and sucking quickly. I will try to publish some piccy's when I update the web-site around October '19. The Jazzman joined his ladies soon after all spring calving was complete, this for probably the last time ?
The only issue I have had this spring time on the cattle front is AI'ing my two year old Jazzman heifers. I only succeeded with two of the three before all went out, the remaining one will have to be later as she cannot go to her father. I have four more to try and get in calf via AI next spring time. Entertaining is all I can say.
Otherwise, we have had a wet spring which has resulted in both the Curlews and Lapwings breeding well. In one of our top pastures there was two Curlew nests, both producing young that fledged. I have attached a photograph of one of these with this blog. I also one early morning directed three young Curlew into a gateway as they were in the middle of the road. A local lapwing pair produced to fledging two youngsters whilst the Oystercatchers did three young. Also for the first time, we had a pair of Song Thrushes take up residence in our garden producing one clutch of youngsters. I put this down to the maturing orchard area which they seem to enjoy. The Cuckoo and Swallows returned as if by clockwork.
Hopefully as we travel forward the sun will come out, and we can then make our hayledge without too much issue.
Enjoy the summer all.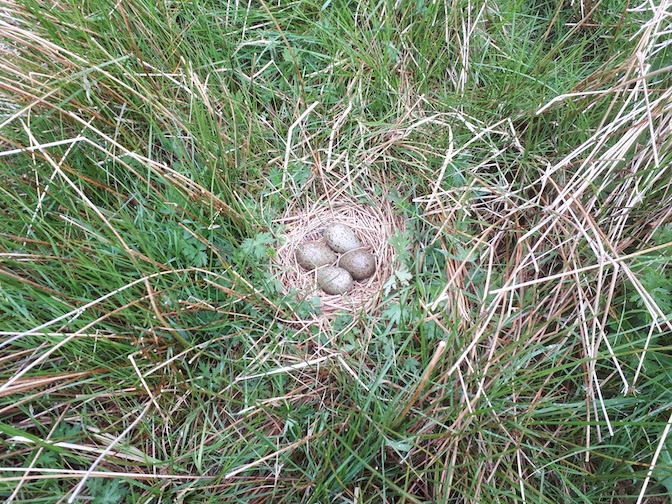 Summer/Autumn 2018
What a beautiful sun drenched, dry summer. We have a pond adjacent to the lane that leads up to our property, we moved into it early 2002 and during this period this pond has only ever dried up twice. Well it was bone dry this summer also, not filling up until into October.
Furthermore, our autumn period was also very good. Just one bad week of gales and rain, the remainder in the main beautiful, complete with fantastic autumn gold colours interspersed with red, yellow and orange. All with a new chicken house roof that has required doing now for some considerable time.
Therefore, cropping our grass was much easier but as I have indicated previously it is rain that makes the grass grow. This year at our homestead we were 30% down in large bale numbers. However, what this dry weather did allow us to do is crop some of our land that is usually too wet to get the tractor on, therefore this usually wetter area was cropped for additional bale numbers. Also, again for the first time we took a late second cut. All told I think we will be OK with bale numbers, we will just have to be careful.
The largest area of concern and waste regarding use of our big bales is the ring feeder we use for the cattle, basically they pull it out and stand on it. I estimate that from each bale only 80% of it is actually eaten. The result to all of this annual waste has been for us to invest in a long feed-gate which operates differently in terms of feed supply to our cattle, giving all more room to feed and thus hopefully less bullying which I think is the root cause of this squander? Hopefully this method of feeding will be improved on the wasteful ring feeder. I will report on my next blog update.
As for my S'Horn herd, they continue to do me proud and are a pleasure to deal with. This year I have had some more lovely heifers who will all join the herd in time. Again, I have had another 'Princess Royal' addition late in the year. On the down side, I have also had three of my older established cows either die in one instance as reported in my last blog or taken out for old age. Nevertheless, with additions from last year and now this year, my pedigree Beef S'Horn herd will grow over the next year or so to the desired number of circa 12 breeding cows. The Jazzman as seen on the web-site is a now a mature bull in his prime and continues to be a gentleman, he is one hell of a good bull throwing in the main red/roan colours from any variant of S'horn coloured cows. At the latter end of next year when he has completed another breeding season he will be offered for sale, it is always sad to see one of our boys go. This because we will be looking to purchase a new young bull from anytime now to whenever 'The Jazzman' relocates, this as we are now approaching a number of his heifers that are joining the herd, so we have to change. Any new youngster will come from a fully accredited health herd which is a fundamental focus for us i.e. to have a healthy herd of cattle. This unfortunately is not now so common.
Our farm has now officially joined the 'Pasture for Life' organisation, basically because this is what we naturally do, and another additional point of interest is that our rare meadow flowers are spreading which gives me great joy.
On another subject matter, I have again re-entered the world of business which I am enjoying thoroughly and is another side of my life which has historically helped build and support our life on the farm. Keep it quiet, but I also needed a replacement tractor and farming was never going to fund this.
Otherwise, the bird life has done OK this summer. Blackbirds only two clutches, Swallows three which is all a result of the weather. The House Sparrow flock had another bumper year due to feeders being constantly filled and costing me a small fortune. One enjoyable experience was noticing a late Lapwing nest in one of my meadow fields, this dictated when we mowed. They did however fledge, and I was adroit enough to get a piccy of one of the youngsters which is attached to this blog. All with Barn, and Little Owl families for company. Happy days.
Not so happy, was the rescue again of a small hedgehog from one of the neighbouring cattle grids. I did my best, but it eventually died. On a more positive note, I did observe during the height of summer on two occasions a Red Squirrel, this was very early in the morning. We are lucky to have these rare beauties locally, simply this is due to the fact the Greys are not tolerated by a large range of people throughout the Dale.
My fruit trees have all taken, I did have to water them during the summer otherwise they would have dried to a fizzle. Hopefully some years hence will see various old types of traditional apples consumed by all. The now well-established Ribston Pippin produces apples to die for, they taste wonderful and knock any Braeburn type supermarket rubbish into a cocked-hat!
The increased sheep flock continues to do well and the tup is now back in with them for the cycle to commence again, also this year we have delivered some Hereford beef because as previously indicated my Beef S'Horns have been giving me a majority of heifers over the last year or so. I will be interested to explore any differences in both texture, and taste?
The Sloe-Gin is already laid down, and we await an enjoyable Sloe-Gin filled Christmas. Hopefully all of our customers and blog readers, along with their families also enjoy a good time and that 2019 is good for us all.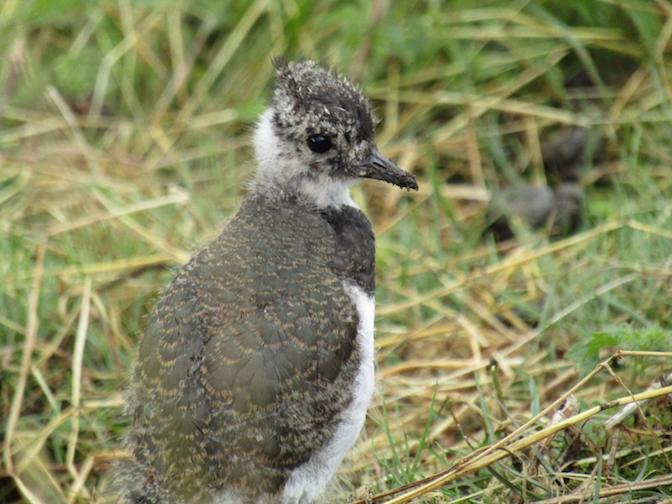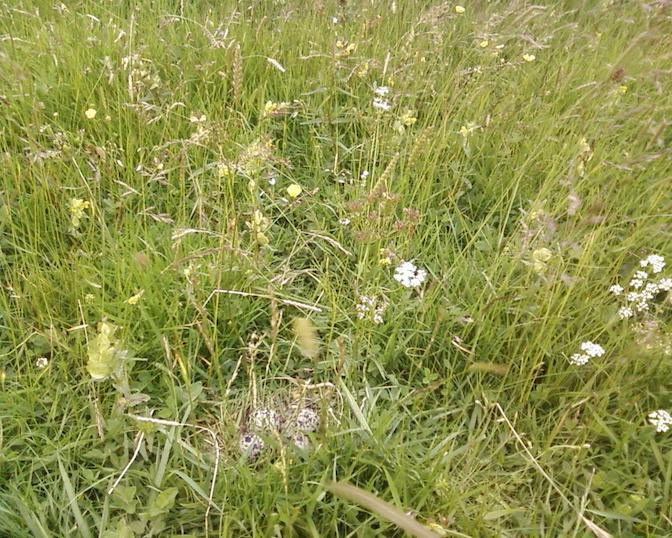 Winter/Spring 2018
All ewes this year were tupped by a new guy, all lambed well as a consequence @ 157% with all ewes having at least one live lamb. Of note the ewe flock is increasing, basically so that we make our customer base happy. All new additions to our Herdwick flock have been bred at home, nothing has ever been purchased in and we are now approaching a 50 ewe flock after commencing some years ago now with six.
The weather, particularly this last March was horrendous with numerous frozen pipes and snow drifts up to my chest. The freezing winds were not what the weather doctor ordered, thankfully at least we lamb in April. I should have predicted the winter to follow as all cattle were housed on 03/12/2017 which was one of the earliest dates yet.
During the winter period, one day I watched a male Stonechat as it flitted about in the snow flakes. On another occasion I took the opportunity of trying to see my first Hawfinch, this on the back of good numbers of them being resident in the North of England during the winter period. One of my neighbouring farmer friends came with us to Castle Howard where they had previously been reported as being seen. We were lucky to see small flocks of them interspersed with Greenfinches, and Chaffinches all feeding on the Hornbeam located on the floor under said trees. What an honour, we saw small flocks of around twenty which were quite 'twitchy' but these were for sure just magnificent large finches. This whilst Adele was filling her face with cakes and tea in the café.
Also, during the winter period more new fruit trees went into our orchard. All older varieties, hopefully spring-time will see them all emerge.
Otherwise, this spring-time we experienced the rough and the smooth of our rural life. One notable down period was the loss of one of my younger breeding cows, complete with her twin calves. Twins, and caesarean operations combined with cattle never end happily in my experience. More on the up side however, I have so far had recently delivered by my S'horn herd two lovely heifers with one of them via the expensive bank of bull semen I have collected over the years which is pleasing. It will be interesting to see if she develops any differently compared to the young stock being produced by our resident bull ?
Another certain up period was hearing one of the local Cuckoo's whilst tending my 2017 tups one morning recently. I have also had reported another Cuckoo locally, two within a 3 mile circumference of the one I heard which I assume is a second one ? Either way it was a beautiful experience.
On the subject of our local birdlife which of course is close to my heart, one notable point which I put down to the late winter/early spring weather is that the resident Swallows have still not commenced nest building. This in early May as I scribe this blog, no doubt they will soon get cracking.
Further good news in the increasing sales via internet business. I retail each year well over 50 Herdwick lambs, and 4/5 S'Horn beasts. New customers that come to mind include; Wales x 3, Shropshire, Stratford and Northumberland. Wow, from small acorns. Thank you all.
Have a good summer all.
Summer/Autumn 2017
Only a small weather window was available this year to get our meadow grass mowed, dashed, rowed, baled, wrapped and led home. This window was a start/stop affair, and in complete difference to the excellent warm spring and early summer we experienced. Even so, and as mentioned in previous blog comments, when it rains the grass does grow at a pace. As a consequence, we had a record haul of bales with most being baled and wrapped in the rain and for sure we will have plenty of winter fodder for my cattle. We also purchase every year a number of sweet small hay bales from a local farm, this is for our sheep flock should the forthcoming winter bring some snow with it. One notable point whilst sat on my tractor mowing was the improved spread in one particular meadow field of Great Burnett, Ox-eye Daisy and Betony.
As you can glean from my web-site, 'The Jazzman'(our bull) has grown well, he is shown a young two year old. I think he is going to turn out with extra width, but not as tall as our last bull 'Ektor'. Otherwise, he continues to do well and is a pleasure to own. All of his 2017 calves are now weaned from their mothers, having grown well through the summer whilst located on the high tops.
A point of both interest and confusion during early summer was the relocation of one of our one-year old heifers from her winter housing into the main pasture field aside our home. A distance of perhaps twenty yards(18.2 M) ? Well, no way would she depart the building into said field. We tried doing this any number of occasions, but needless to say she was not to be moved. Therefore, the trailer had to come out and she was transported the twenty required yards into her field. Who would keep livestock!
Our sheep flock lambed well this year, with double the number of gimmers relative to tups. One issue resulted in a Texel x lamb from a neighbouring farm being mothered on to one of our Herdwick ewes. He looks quite a sight now being all white, and running around with his black Herdwick mates.
All of the local bird life bred reasonable well, the Swallows however did not produce the normal three broods by the time they departed. I put this down to the damp late summer period. The House Sparrows again reproduced in number, I need at some point to increase the number of nest boxes for them. Another pleasurable sight during the summer period was on driving down our lane in a heavy downpour, I observed what initially thought was a couple of large walling stones located on the narrow strip of grass between the two wheel tracks of the lane. 'Unusual' were my first thoughts, then they moved ! The 'stones' were a pair if Grey English Partridges both shielding their brood from the rain, there were about a dozen small chicks. Later in the summer I saw them again, and I would guess that at least eight youngsters were still following them around. Beautiful.
An indicator of our acceptance locally after residing in the deepest of countryside for some considerable time now, was the gift from a good friend of a large freshly line caught Salmon.
Our farm business grows year, on year. We all eat like kings, thank you all.
Finally, Jazz our now two year old Sheepdog has turned out to be a class act. Not only is she at the heart of the family, but also does he job with relish. What a beauty.
I hope all have a good Christmas, and prosperous 2018.
Winter/Spring 2017
I consider the weather we have experienced over this period as normal, this with the usual gales, rain and snow. Nothing special. My last cattle came inside on the 1st. of the year. Also during this period we again 100% passed all cattle Tb testing, thankfully returning to a 4 year testing interval as a result.
All cattle and sheep produced well, with a number of young heifers to join the herd in time. One particular joy was that we have two Beef Shorthorn female lines; Irania and Princess Royal. Over the last fifteen years the only females we have bred have been from the Irania female line, well we now have Greensleybank Princess Royal 2nd!
All calves were calved naturally with no assistance. Also the Jazzman has grown considerably, I will try to take an appropriate photo of him over the summer. If I obtain a good one it will be updated on to my web-site in time. One jovial issue to report is that I had to treat him for a few warts which were located on his testicles. For this I had to smear an acid type cream on the warts once daily. The first time I applied it all was good, the second day he nearly kicked me into next week. Thus, I had to apply said cream out of kicking range. It was quite a sight to see him teathered by the neck in his yoke, then me applying the cream to his testicles via one of Adele's face brushes attached to a yard brush handle whilst avoiding his footwork. Oh what fun !
On the wildlife front, one December morning whilst foddering the cattle at home who were still outside, this with a slight dusting of snow on the ground, I watched a pair of Merlins. One atop a telegraph pole, and the second on a stone wall that runs alongside the telegraph pole. They were soon on their way however, but a privilege to see.
In springtime I have relocated into adjoining fields from the road two Hedgehogs and a young Curlew, all at differing points. I have also rescued a pair of very young Oystercatcher chicks from a local cattle-grid, which in my experience are just death traps to toads, frogs, hedgehogs and any young ground nesting birds.
My customer base continues to expand, with new customers based in Kent, Shropshire and God's own county of Yorkshire. Thank you all.
On the issue of customers, I must make the point that some of my Herdwick hoggs are large, and some small framed. Just like people. Therefore, if any of my customer base orders a half lamb you may on the very odd occassion receive one of the smaller ones. I obviously try to avoid this, but sometimes it cannot be helped. I mention this because I have had a now past customer commenting upon web-site lamb weights. Please note that you are purchasing the historic taste of my Herdwicks hoggs, not weight.
Enjoy the summer all.
Summer/Autumn 2016
All told an average summer, with only good patches of sunshine in both September, and October. I would call it a 'catchy' summer where there were the odd few days of dry weather where you had to act quickly to get your grass home dry. We had more large bales this year as we have taken more land on, some rough which my Shorthorns will enjoy, also some pasture that can be cropped.
On the cattle front our new young bull has learnt eventually what his future is about, I say 'eventually' because he started at the wrong end to begin with ! However, all cows are now in calf to him, which we are looking forward to. Calving also went well, with one more heifer to join our herd in time. As a consequence to the extra land holding our cattle number will slowly grow to around a dozen breeding cows.
Lambing went OK, we did have some large lambs in some instances. This when Adele my wife was very ill and in hospital. She is now recovering, and looking back I have some sympathy with her when I was previously travelling the globe, and she lambed the flock on her ownsome. The tup goes into his ladies this coming weekend, thus the life cycle continues.
Jazz our now one year old sheepdog can only be described as a beauty, working for Adele in the main, she is now a central part of our family.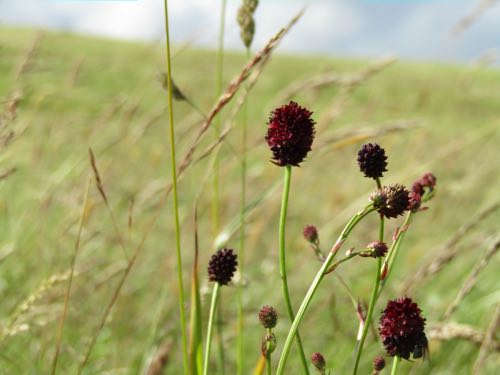 Also this year I reviewed our flower base in the summer meadows, this in conjunction with members of the Yorkshire Dales National Park. To my surprise Betony, Yellow Rattle, Pig-nut, Meadowsweet, Kingcup, Meadow Vetchling, Lady's Mantle, Birdsfoot Trefoil, Yarrow, and Great Burnet were all found. There is a piccy of one of the Great Burnet plants I found along with this blog. I found this exercise very rewarding, and will now try to help these rare meadow plants expand and flourish further.
On the bird front, great pleasure was gained when I discovered a pair of Barn Owls in an adjacent field barn. Watching them quarter our pasture fields on a late summer evening was probably the highlight of my 2016 summer. Also, via my House Sparrow nest boxes we had at least sixty youngsters on occasions clamouring on our feeders. A great success. Additionally, about a mile from home as the crow flies there was a pair of Merlins that reared three youngsters. Last, but not least during the height of our summer I watched a pair of Grey Wagtails feeding alongside a beck adjacent to our new land holding. All fantastic, and makes my heart smile.
Our internet business, whereupon we supply our farm produce continues to grow. New customers are based in Bristol, Tyneside, Leicestershire and Lincolnshire. Thank you all.
All cattle buildings are now clear of manure and ready to accept them again, when the weather takes a change for the worse. The young bull will be first, primarily so that we can put his ring in, and also to keep him well away from the young heifer who if she turns out like her sister will be one hell of a heifer.
Have a good Christmas all.
Winter/Spring 2016
All I can remember is rain, rain and yet more rain. There were times when I had to dust off waterproof gear that had not been worn for a good decade, this because I had too much trying to dry-out on a daily basis.
The second big deal for winter was to receive a letter from DEFRA informing us that one of the neighbouring farms had purchased in a Tb infected cow. The result of this was that all farms had within a circular distance of the outbreak had to immediately enter a six month testing period. This after we had just passed fully our previous four year test. To say this caused some considerable upset locally with the guilty farmers, who tend to deal more than farm, is an understatement.
Luckily all of my cattle were located on the high tops. They had no neighbouring cattle within a mile of them. Even so, all testing which has now been completed was a concern for all. 100% of my S'Horns passed both tests clearly. However, this year we have three beautiful heifers who are too young to go to my bull so will have to stay at home, thus double electric fencing has been installed at some cost. What a mess.
Jazz our new sheep dog has grown and matured at a pace. She is now undergoing her training and already at nine months of age know her 'aways' from her 'come-byes'. She commenced on the ducks, then the geese, and now our sheep flock. She is a natural, and turning out to be a real dream.
All poultry and sheep have bred well, and stock is growing well to date. My cattle however do not commence to calve until June. We await with anticipation. Our new bull; 'The Jazzman' has grown well and is now out with a small number of his ladies.
Two events over winter included the final journey of one of my original foundation cows. She was fourteen years old and had given us eleven calves, rearing the last one on only one cylinder. She has been the bedrock of the herd with a number of daughters, and grand-daughters in the herd. The second notable event was the sale of Greensleybank Ektor to another pedigree breeder wishing to to grow their herd. We were sad to see both go.
One of the improvements has been that I can now butcher my own lambs, thus helping keep the cost of my Herdwick lamb sales down for my customers. Also, as every year we have new internet customers, this time in Essex, E. Sussex, E. Yorkshire and Warwickshire. Thank you all.
On the bird-life front we have three pairs of Swallows, a pair of Pied Wagtails, and my nest boxes for the House Sparrows have been a huge success with 100% occupancy! Further away we have the usual Lapwing, Curlew, Oystercatcher and Redshank families. This springtime we actually observed a young Redshank, I can only describe it as looking like a pipe cleaner. Also of note, the local Cuckoos have perhaps been more prominent vocally than previous years as I have had numerous confirmations which is great to report.
We now look forward to summer.
Summer/Autumn 2015
Somewhat of a damp summer, we had the very odd patch of clear weather but all told it was not a great summer-time weather wise. I remember cutting my grass for winter fodder over a two day period in early July, and the tractor windscreen being spattered by the odd drop of rain in the process on both days.
Autumn however delivered a good dry month in October, and with some fantastic colours on the various trees. One morning as the sun was casting its first rays across the dale-side it caught the profile of thousands of spider webs linked from grass stem, to grass stem. My words do not do the vista I observed justice. It really was a special sight.
Another happy memory of late summer, early autumn in an area of the dales that has very few people and certainly no ramblers, was coming across a sea of Scabious and Betony with the odd Yarrow in there. A solid blue, red and white heaven over at least a quarter of an acre, on a steep bank where the had been no sheep. Magnificent.
All cattle calved again well to Ektor, resulting in three steers, but also I can happily report that we also had three lovely heifers delivered. One of them has been given the house name of Rose, she is a cracker. All will join the herd in time as we need some fresh youngsters. Also of note on the bovine front, we have purchased a new young bull, importantly from a fully health accredited herd on the east coast of Yorkshire. We selected him (Kelleythorpe Jazzmann) primarily for his health status, but also for his potential of delivering further width and colour to my herd. At the moment at great deal of time is going into him, and as a result he seems to be very quiet. Work on; 'what goes in is what you get out'. Unlike Ektor who is a beautiful strawberry roan colour, the Jazzman is in the main a deep red colour. Ektor will now be made for sale, all of our 2016 crop of calves will be by him. We will be sad to see him go. All cattle are down from the high tops, with some but not all inside as we have already had a good dose of snow. The remainder are wanting to come inside. This, or just feed them outside as I usually do until after Christmas.
On the mother nature front, I was this year pleased to attract a flock of House Sparrows to the farm via my bird feeders. They bred well in one of our buildings, this until the Jackdaws wrecked the nests. A job for me over winter is to install four, or five sturdy nest boxes in said building that are Jackdaw proof.
One funny incident recently was prior to the recent snow, when we had more than a week of solid rain (November). As every year, roads became flooded. On one occasion one of my friends was on his way down the dale in his L/Rover so he could easily progress through the various road closures. In doing so he came across an old couple in a small vehicle that had been stranded in about a foot (0.3M) of water. Being public spirited he went to help them, on approaching the vehicle he observed them reading a map!
Finally, in August we went to collect our new sheepdog puppy as I am getting too old to be running after sheep that have a differing ideas to mine. Well, to say our lives changed is an understatement. Jazz (a coincidence with the bull) is full of life, and there is never a dull moment. She is pictured now on the site.
Winter/Spring - 2015
The winter months experienced at Greensleybank were of a standard nature in that we had the usual gales, rain, sleet and snow but in no great quantities, or extremes. I call this a fair winter.
All of our cattle came in just prior to 2015 commencing, and all have wintered well. As I scribe this small update of information we have so far had three healthy vigorous calves, and to my utter joy two of them were heifers. At last. Two more cows are now nearing their time, and the cycle continues.
All Herdwicks lambed well, all ewes so far rearing at least one fit lamb. All told they lambed a respectful 165%, and all are now enjoying the fresh shoots of green.
This spring time was improved for my geese as I set to reducing the number of attacks from the Rooks and Jackdaws on the nests. My strategy worked up to a point.
As spring is now with us, the local bird life has never been so prominent. In that around our buildings we have youngsters in the nest of; Blackbird, House Sparrow, Hedge Sparrow, Blue Tit, Goldfinch, Swallow, Pied Wagtail and Wren. Also, in one of our older barns away from the homestead we have a pair of Kestrels. Further afield Moorhens, Curlew, Oystercatcher, Redshank, Mallard and Lapwing have all fledged youngsters. It is too early for Partridge. I have also come across a Meadow Pippets nest with two eggs enclosed on the high tops. Also, when I visit my cattle located where I found the M.Pippets eggs I regularly see a Redstart on the journey up within wooded valleys that I transcend.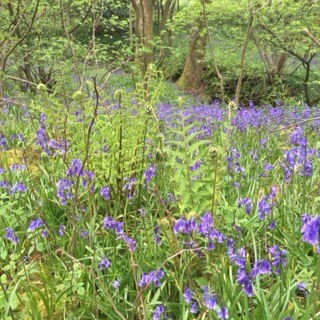 I have had my camera out again, and this time have included some local shots. The Bluebells were magical.
I now await for whatever summer will deliver.
Summer/Autumn - 2014
The weather is dreary as I sit writing this blog update on a late November afternoon which has low cloud, is misty and cold. However, I look back to what was a super summer. One filled with many clear days of sunshine, interspersed with grass growing showers. As always based where we are, whenever we have in the main sunny weather we have less winter forage than on a wet summer. I know, never happy.
All of our cattle excepting Ektor the bull are still outside, with the majority around the pasture fields around home. We still do have some yearling steers located at the 1350 Ft. level, these animals however will come home this forthcoming weekend which is the latest date yet that they have foraged on this terrain. Again 100% bull calves this year, will my future herd through the birth of heifers ever happen I ask myself? I now put this down to Ektor, and his 'fit' with my cows as I have not had an heifer for over four years now. Logic dictates this trend cannot continue. Ektor himself continues to conduct himself as a true gentleman and is now a very big guy. All of his calves were up and suckling vigorously within seconds of being born, easily calved to-boot.
Our Internet sales continue to expand, we now deliver from Glasgow to Brighton, Blackpool to Hull, and many, many places in between. Thank you all.
The tup is now along with his ladies, and seems to be working hard towards next year and new life.
Otherwise, from a farming front the year has shot by. Oh, nearly forgot in that I have again had some recognition with one of the numerous photographs that I take. This time with the Cogent, in that one of my shots will make up one month in their annual calendar!
All local wildlife, as you would expect in a good summer has bred well. I remember a pair of Oystercatchers rearing two youngsters successfully early doors, a pair of Moorhens rearing three broods which have now relocated down into the local river. Our resident swallows also did very well. They did, however, depart for the southern hemisphere a few weeks early which surprised me as they usually go around the first week in October, but this year mid-September? One warming sight that comes to mind is when in late August high on the moorland tops whilst Grouse beating, watching a small group of Swallows adjust constantly against the prevailing wind. This whilst keeping about a foot (0.3M) above the heather catching various insects as they bolted from the heather after experiencing the shadow of the Swallows directly above them. I assumed that they were on their long journey south, and were having a lunch stop-over. The whole experience as I watched them gladdened my soul.
Closer to home, every night we currently have a couple of Blue Tits sleeping over-night in our tractor which is currently housed, squabbling for the warmest position.
Note must also be made of our resident Tawny Owls and Little Owls, especially the Little Owl family which we see regularly sitting on the wall tops as dusk descends after a bright summer day. We also hear them, usually shrieking from the apex of our roof, just above our bedroom window in the middle of a warm summer night whilst the window is open. Adele has a special name for them; 'Little......', and it is not Owl!
Also, I know of numerous Cuckoos locally. Not on our doorstop, although I have head them in years past, but not so far away as the crow flies say 1-2 miles max. Also, Barn Owls, who reared two young to my knowledge.
2014, all told, has been a good year, one to enjoy and embrace. Adele and I now look forward to winter and the snow and gales, but this is now part of our circle of life at Greensley Bank. One which we have grown to enjoy.
Winter/Spring - 2014
In the main the weather has been kind with only two, or three days of light levels of snow, this on the high ground. Otherwise, the winter has been wet, mild and at times stormy. One particular day I remember, not long after boxing day we had a strong, heavy gale. This I know because as I was feeding my cattle I watched the chicken house roof 'winking' at me as the roof frame was being dislodged from the brickwork in the extreme gusts. A new roof is one of my 2014 summer tasks, or it will not be with us long.
All ewes tupped first time with a smart looking two shear tup borrowed from a good friend, and the resultant lambs were the best crop we have ever had. All except three ewes produced twins, which is quite unusual for the Herdwick. All except two ewes lambed whilst I was travelling abroad and within a twelve day period, I hear my wife had great fun!
As I scribe this note in very early June we so far have again only bull calves, which is great for our internet business but does nothing for the building of my cattle herd. Also, some of my cows are now getting a little 'long in the tooth', I still have one of my original foundation cows who is currently twelve years old and suckling her tenth calf. Will she continue as her milk production declines, who knows?, but this forthcoming summer will tell all. For sure she will be respected to the end.
All calves to date have been calved naturally, are large framed and up in an instant with vigorous appetites which has impressed Adele and I. Ektor is again raring to be out with his ladies, however we still have two more to calve, one imminently. Ektor himself has grown considerably during the winter months and is now quite impressive. He will stay with us until he delivers our future herd.
On the nature front for sure the highlight of the winter was observing one very early morning a large otter traversing across the lane as I was off somewhere. I have seen these creatures previously, but always in the water where you do not get to see accurately the physical size of them, this time I had a full clear view as the otter hightailed it away. I imagine it was one of the local population that reside in the local Ure river and was on its way to a very large lake (Semerwater) which can easily hide a few otters, being about a mile from the main river system as the crow would fly.
I also remember this spring time, observing numerous Roe deer out and about in various locations. Indeed once seeing five adults feeding in a rape field adjacent to the busy A1 road network, with thousands of people passing by no doubt listening to some radio drivel or, ensconced on a discussion on their mobile whilst passing this beautiful sight of nature, all too sadly oblivious.
The local Oystercatcher pair currently have two well grown young, Pied Wagtails and Swallows are also feeding nest bound young.
Lastly, during May I rewarded myself as a celebration of my fiftieth year by travelling south, this so that I could hear the Nightingale sing. Oh what joy, and beauty.
Summer/Autumn Update - 2013
What a beautiful summer to report, with all winter fodder now safely at home. Even so, a little less than last year but much improved quality due to the sunshine we all enjoyed. All stock again thrive, I do wish however that we could have something other than bull calves delivered. Mother Nature I am sure will change this around within the next year or so however.
Ektor, as now pictured on the website has done his work for the year with all cows now 'settled' and in calf, he continues to be a complete pleasure work with. As I write this brief blog at the very end of October my cattle are still located on the high-tops at around 1 350ft., they forage exceedingly well and make my rough pastures look much improved. Nevertheless, they are now eager to come home to the 850ft. level where we have our homestead. We still have some sweet 'fog' grass that has been left touched from cropping in late July, this they will devour with relish before weather permitting, coming inside towards the end of the year.
Our growing Herdwick ewe flock is looking in good condition in preparation for tupping from bonfire night onwards. Yes, 'Reggie reject' is still with us, and growing apace, oh and we have growing Muscovy ducklings everywhere!
Additionally, our internet sales continue to expand with deliveries this year to the north - Hexham (Malcom), east - Hull (Andrew), south - Essex (Dudley) and west - Blackpool (Jane), and everywhere in between. Thank you all.
Otherwise, I have completed my annual roof repairs with the gales to come in mind, all cattle buildings are emptied and I even did some work inside the house this summer ! We purchased our straw early this year, our barn being full for quite a few months now which the chickens have loved laying in. Finding the eggs has not been so easy…
On the local nature front, our Swallows once returned only had two broods where three is the norm, this being because of the late start they had because of the very cold and late spring time. We had no Blackbirds this year, as the damn Sparrowhawk had them for lunch before they had chance to breed. Why do I see no one complaining about the expansion in numbers of these birds over the last twenty years, and the equal decline in the song bird population over the same period? Don't get me going on the RSPB… All summer resident waders (Curlew/Redshank/Lapwing/Oystercatcher) bred well, all now having departed.
Early one summer morning I observed the largest dog fox I have ever seen, he was very large indeed. We do tend to have a number of foxes locally, when one is despatched another moves quickly in, they are always nice to see but we only want the odd well behaved one at any one time for obvious reasons.
I also have been grouse beating on our local shoot over the last few weeks, the scenery is worth the toil although I don't know if my aching body on such a day would agree. The local rabbit population has exploded, due not only to the fine summer but also because we have had no 'mixy' throughout this period. Not for many years has this been the case as the disease usually wipes them out mid-summer, and they build their numbers up again. What this had achieved is a reduction in chicken losses to Stoats, which is very pleasing.
The clocks have now traversed backwards, and we look forward to what we see as the most unfavourable two months of the year in Nov/Dec, but hey January beckons and the internal light which is somewhat dimmed by then commences to flicker into life again.
Winter/Spring Update - 2013
Like all, we have experienced a continuation of the wet weather most of the country was exposed to throughout 2012. This continued until March when the clouds again burst open, but this time with about a metre of snow. Much, much more in the drifts, our lane had in excess of two metres in places. Indeed, I was stranded at home for a few days on one occasion which was not so bad I seem to remember.
My new cattle building was made available to me on Christmas eve, my cows sprinting into it with no hesitation. We still have to install an electricity supply and lay a concrete base, this after removing the winter deposit of manure ! So far, when penning this note in early May, I have had two of my cows calve healthy bull calves with the third due sometime this very week.
Within a few weeks I am looking forward to introducing 'Ektor' to his ladies, without a doubt he is developing into a fine looking bull. He has excellent bone ratio, just as importantly for us however is his nature, which I can only describe as that of a fire-side pussy cat. Once he is cleaned up I will put a piccy on the website.
The Herdwicks have again lambed well, luckily we lamb in April which just missed the heavy snow fall of the prior month. On the downside, we have the odd reject lamb. One in particular, 'Reggie-reject' has taken the eye. What a character he is turning out to be.
Also of note this year, we have goslings hatched. This after the usual mayhem with the rooks and jackdaws stealing the unguarded nests of their eggs during the laying period, my gun does create some semblance of protection but even so we have had some losses. However, once the goose sits there is no man, nor beast that will hurt the eggs or hatched goslings. Both parents will readily give their lives to protect them, a both humbling but magnificent site to behold.
No ducklings yet, which I put down to the very cold spring, but I live in hope as they are again seeking out suitable nesting places inside the barn. Spring nevertheless is here, if I get my micro-scope out I can just about detect some small grass growth. The numerous young rabbits I see daily are a sure-fire indicator that it will no doubt be shooting skywards soon.
The stoats will surely follow and my traps will then have to be set, along with mole ones that are currently reaping havoc amongst the local population.
So far all of the birdlife migrants have returned, excepting the magical globe trotting swifts. Our swallows however must have had a hard time during their holiday, as to date we have only one lonely male bird when usually we have three to four pairs in our buildings. Hopefully more will turn up within the next few days. This when I have noticed an Oystercatcher already sitting on a egg clutch in one of the local pasture fields. Oh what a great time of year.
Note - for any potential new customers wanting produce please contact me some months in advance of when I have indicated produce will be available, as quite often I have difficulty in keeping up with demand. I also have a 'foodie' circular that informs all what is coming up, it may be an idea to contact me via e-mail and I can then add your address to said bi-annual circular. Finally, yes we do o/night mail-order to anywhere within the UK with all product in insulated, professional packaging. For example, we have sent produce to the Isle of Tiree (Scotland), and the Isle of White (deep south UK), anywhere in between is no problem.
Spring into Summer Update
In summary; wet, wet, wet, I should not forget however the one good month so far - May. We have had nevertheless some bright spots to experience along the way, with one of them being that all lambing went well, the Herdwicks, touch wood, give very few issues. The resulting lambs just have to be 'watched' for the first few days as they are born very small, which of course is why the ewes perform well. You cannot have it both ways as the saying goes…
We also have some good, strong calves running around. All cows calved well to 'Dennis' and are showing very good growth rates, especially in length where he excels. All breeding cows are again served by him for next year, he will now be made for sale as we have his full brother one year behind him (Ektor), and we must make room for him. Otherwise, all cattle are enjoying the grass and look in good summer condition.
My Christmas geese have been a disaster, in that although we had a good May, the month prior we had about a foot (just under a metre) of snow for a few days. This when all my geese were brooding their eggs, only the ones that had nested within the shelter of a wall away from the drifting snow survived with any goslings. Even so, there are not so many of them. All remaining nests being covered by the thick blanket of snow, such is nature on occasions.
One consequence of the amount of rain is that I have not been complaining about a lack of grass, just that we cannot get onto the ground to turn it into winter fodder. Indeed, another advantage is that our resident pair of Blackbirds have fledged three full nests of youngsters as the soft ground also enables plenty of worms to be caught ! The Swallows have not done so well this year, there has been far too many rainy days… Also, not too far away on our neighbours farm, a healthy clutch of Redstarts have fledged, a great sight.
I am still hopeful that as I pen this note in late July, that we will yet still see the golden orb high in the sky before the darker days of autumn descend, and our barbecue can then be dusted off from its winter sojourn ? A sign of the summer slowly waning however is that we are now seeing the creeping departure of the Curlews, Lapwings and Redshanks from the hills, slowly moving down the dale to enjoy a 'softer' environment now that they have completed breeding for another year.
Additionally, this year we are in the process of updating our cattle buildings to something more modern. Hopefully all will be successfully completed by the time the tup is again introduced to his ladies in early November?